Meditative Archery - Biography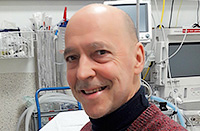 Biography
Life story
In 1971, Lieven Ostyn learnt the importance of meditation in martial arts through the training of Sensei Hubert Eerdekens. Between 1990-2000 he was coached by two masters : Douglas Harding (The Headless Way) and Maarten Houtman (Zen as a way of life).
In order to grasp the influence of meditation on the human body he attained a medical degree in Belgium. In 1997 he developed a kind of archery inspired by Zen in which respect for the body and the fellow person stand supreme.
Thérèse Windels (Vlaamse Eutonie School) learned him the importance of grounding and the deep contact with the body.
Zen Buddist Mimi Marechal gave him the opportunity to teach his first 'Meditative Archery' course at the Tiltenberg (NL).
Up till now he has taught around 350 workshops at meditative centers, universities and educative organisations.
Professional practises
Mentor meditative retreats
Trainer in the domain of Resilience and Selfcare
Lecturer Anatomy and Immunology
Practise as a general practitionar
Diplomas
Master in Economical Science (UFSIA, 1974)
Bachelor of Medicine (UGent, 1984)
Docter of Medicine (KUL, 1988)
Back

to menu