Meditative Archery - References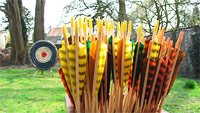 References
"In an atmosphere of complete awareness, a profound relationship between body, spirit, bow, arrow and goal arises. The fixation on achievement gives way to experiencing what really matters. Lieven teaches more than archery, this is an inspiring exercise filled with self-reflection."
Harmen Maas, Zen instructor, Nijmegen
Zen and Quiet Centers
Ehipassiko, Antwerpen
De Tiltenberg ,Vogelenzang, NL
Zendo Ikiro, Arnhem, NL
ZIN in werk, Vught, NL
Zen.nl, Nijmegen, NL
De Noorderpoort, Wapserveen, NL
Sita Cornelissen, Amsterdam, NL
Timotheus, Affligem
Siloam, Zonhoven
De Roos, Amsterdam, NL
't Verhaal , Burcht
De Rank, Beveren
Initiations, Uccle
Amapura Yogastudio, Wachtebeke
MedITANT, Zeist, NL
"I have experienced this workshop as a caress for the soul."
Geert Yserbyt, training coordinator'De Landwijzer', Antwerpen
Organisations
CM Samana, Brussel
Next Level, Dendermonde
VSPW Gent
OCMW Dendermonde
Moritoen, Brugge
Rustenburg, Brugge
PLATO, Oost-Vlaanderen
Kluwer, Brussel
CNPV, Centrum voor Nascholing en Posthogeschoolvorming, Brugge
Geestelijke Gezondheidszorg Noord-Brabant, NL
Vlaams Humor Congres, Helchteren-Houthalen
Amelior, Kortrijk
Schoonderwoerd & Partners bv, NL
De Waai, Kaprijke
OC Transpersoonlijke Psychotherapie, Mechelen
Psychiatrisch centrum St-Jan, Eeklo
Jongerenwerking Pieter Simenon, Lommel
Business and Development, Haasrode
Penitentiaire instelling Gent
Janssen Pharmaceutica, Beerse
Syntra Vlaanderen, Brussel
Syntra West, Kortrijk-Brugge
OVSG, Brussel
Agra Management, NL
Kunstacademie Mortsel
Ministerie van Binnenlandse Zaken, Brussel
FOD P&O, Brussel
Bronkracht, Herk-de-stad
Don Bosco College, Zwijnaarde
"Lieven Ostyn's workshop combines the archery, organisation and management experience in an astonishing way."
Prof. Dr. Eric Lefebvre, Professor L.U.C., DepartmentBusiness Management and decision science
Universities
Universiteit Antwerpen, Opleiding Doctoraalstudenten
Universitair ziekenhuis Gent, Palliatieve Unit
Limburgs Universitair Centrum, Sofia
Universiteit Gent, Laboratorium voor Genetica
Vlerick Business School, IC. Stressmanagement, Gent
De Baak Management Cntrum VNO, Noordwijk-aan-zee, NL
UFSIA, Centrum voor Andragogiek, Antwerpen
Interuniversitair centrum voor huisartsenopleiding
KULAK, Eekhoutcentrum, Kortrijk
Hogeschool Universiteit Brussel, Centrum Permanente Vorming
Back

to menu